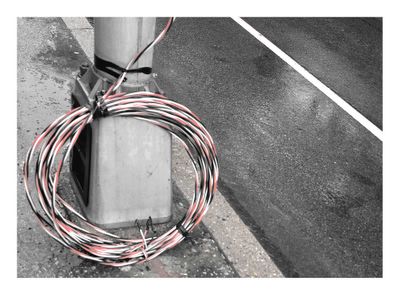 UPDATE:
Ahhh, the wonders of 'sleeping on it' and also inconsistent montitors. That said, I have officially decided that I DO NOT like this photo anymore. I'm looking at it and wondering why I thought it was redeeming. I'm my own best critic.
I
took this photo a while back while visting my brother-in-law, Victor, in Philadelphia.
Some might think it's dull or wonder why someone who fancys themselves a photographer would post such a photo. Here's my explaination: I like this photo because of its simplicity. I like that the only color comes from the only non-straight edge in the frame. True, I did render everything but the wire blk & wt, but the shot was essentially pretty monochrome anyway.
I asked my photo editor,
Alex
, what he thought and he said "uhm.. I don't really know what to make of it" and then I asked my French Fashionista Friend Geoffrey what he thought and he didn't have much to add at first and then he asked me about the color. Upon telling him what I did he said it reminded him of the girl in the red coat in Shindler's list. Interesting.